Not All Sheet Masks Are Created Equal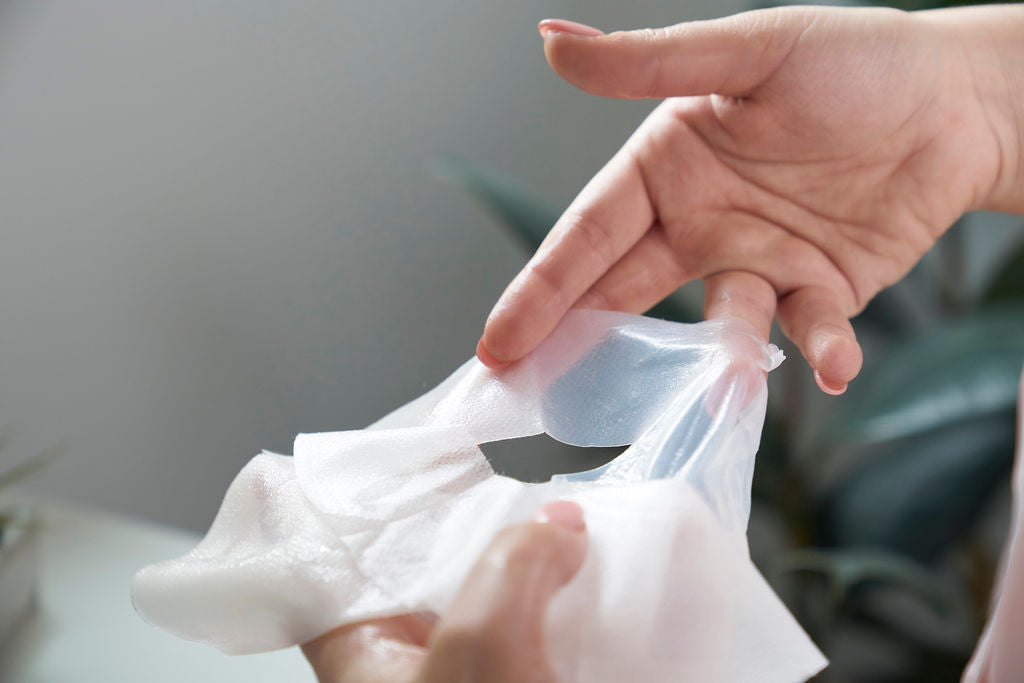 For those of you curious about the history and development of sheet masks, here's a little handy chart that shows you the different between the older generation masks and the most advanced technology of masks today.  
In summary, the oldest generation of masks are those made of some sort of microfiber- the ones you are most familiar with and sold in drug stores.  The second generation masks are gelled serums called, hydrogels.  
The newest developed material used for Mask Moments, are called bio-cellulose.  They are all natural, made of fermented coconut water and are therefore biodegradable. These work very differently from the previous generation masks, as they hold the serum in the body of the mask and work to transfer the serum to dry skin.  As they transfer the nutrients, the material thins. You'll find that the part of the mask on drier parts of your skin will thin out faster. Using nano bio-cellulose technology, these sheets can hold up to twenty times their body weight and help skin absorb nutrients ten times better than the microfiber masks.   
Fact: These sheets were originally used to treat burn patients, because they had the ability to cool skin, facilitate restoration, and molded well to contours.  They are also compatible with sensitive skin, as they are an all natural material. 
Because of their effectiveness, the effective biocellulose masks are the most expensive.  Lucky for you, Mask Moments sells the masks directly to the consumer without the middle man, brand, or retail mark ups (that charge up to 80%!) so that luxury beauty can be made available to all. 
Mask Moments Masks
Jam-packed with vitamins B, C, proteins, peptides and amino acids, our coconut bio-cellulose masks put paper masks to shame with their soothing, porous structures and state-of-the-art technology. 
Developed with the goal of utmost absorption, these little guys feel light as a feather, but hold 20 times their dry weight, allowing for the highest volume of nutrients, like those from licorice root and lavender, to be transferred from each delicate fiber directly to your skin. Where topical moisturizers evaporate into thin air, our masks seep deep into your pores, making themselves at home and your skin, buttery soft. What's more, our masks are made with zero artificial fragrances, so you can inhale all the heavenliness without a care. 

Yep, we're basically quenching your skin with scientific superpower technology and a whole lot of naturally-derived goodness—think essentials oils made from ingredients like Mexican juniper and skin restoring agents like sodium hyaluronate. Thoughtfully crafted to cool, lift, moisturize and more, our masks combine a variety of expert-recommended ingredients into one magical, wearable potion.
You have to try it to know it.  I challenge you to try Mask Moments for a week. Your skin will be transformed!  Best recommended to be used routinely. Because masking should be like brushing teeth.