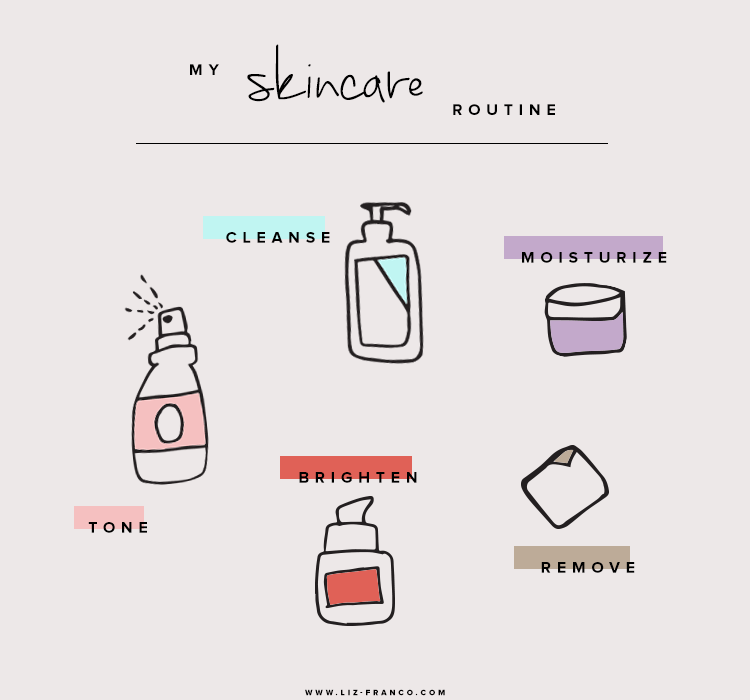 Part 4. Restoring & Replenishing
If you are just joining us for the first time, please read the previous posts about the cleansing part of the routine.  Skincare routines are largely built around cleansing, which includes exfoliation (deep cleansing) and restoring and replenishing.  We also discussed choosing skin goals including that of anti-aging and anti-inflammation on top of your personal goals to set as targets when choosing products for your personal skincare routine. 
Replenishment, Restoration, Hydration 
Replenishment, Restoration, Hydration:  Ok, so now that your pores are clean and fresh, it's time to replenish and moisturize your skin. (Did you miss the cleansing steps before this?  See here.)  I like to use a potent mix of antioxidants in these steps to fight free radicals.  These are the products in which you should be investing. Here are the ingredients you should look for as you choose your products.  Most of the time in beauty, you really do get what you pay for as the more effective ingredients create a higher demand and drive costs up. As for the sequence of your routine, when in doubt, go in order of the most water based product that's transparent, watery and light, to the thickest, more oil-based, creamy, heavier product.  The idea is that the smaller molecules should go on first to be absorbed into the deeper layers while the bigger molecules serve more as an occlusive to keep moisture locked in. 
Preparing/ setting the skin:  Apply toner here (non alcoholic, skin prepping.) You can choose to replace with a glycolic acid/ salicylic acid pads, an essence or mist here. Some also like witch hazel, or I sometimes recommend a rose water based toner, a pH balancing toner, or a skin-relieving toner,  if none of your products in the routine have it. Determine the right products by your skin goals.

 

Apply essences, ampoules and serums here- in that order. If you are layering on multiple products here, remember: clearest to creamiest or smaller molecules to bigger molecules. Ampoules penetrate deeper so they go before serums.  The more translucent and watery textures should be applied first. It is totally OK to layer. People ask whether you should wait before applying the second or third serum and technically, yes, you should give it a minute to settle in, but it's OK to pat on. All of your products in these steps should have your active ingredients that hit your anti-aging skin goals- all your vitamins, peptides and antioxidants.  If you are using potent but effective ingredients like Vitamin C or retinol that you can be sensitive to, be sure to apply them at night. Some people advise not using the two together, but that also depends on how sensitive you are. The reason some advise not to use them together or before exposing your skin to the sun is that these can all cause irritations.  It's important to know your skin and build up to using powerful actives over time.  Again, it would be wise to always have a Mask Moments mask handy to soothe and calm any inflammation in case you flare up from irritations. You'll be hitting your anti-inflammation skin goal at the same time.  
Restore that nutrition and hydration with your Mask Moments! This is the MAIN EVENT of your routine! We recommend masking minimum one time a week if you are not in the habit, but generally, two to three times a week is recommended.  Celebrities and women in Asia mask daily and before big events so the make up can go on smoothly. If you are using a cheaper, paper/fabric mask, do not leave on long. Ten minutes should suffice before the fabric dries. Definitely don't sleep in it. If you are using Mask Moments, you can leave it on as long as the mask takes to seep into your pores and absorb. You will see the mask begin to thin as the antioxidants, peptides and actives transfer.  In fact, applying Mask Moments at this step will help the actives from your serum in the previous step absorb into your skin as well. The mask also has a serum in it that  provides a deeper level absorption of nutrition restoration and hydration replenishment. If you are using Mask Moments masks, it's highly likely that this is the only anti-inflammation step in your routine, which is key to anti-aging. These work like home beauty facials to plump your skin, delivering results and benefits of a spa right at home for a fraction of the price- what's NOT to love? Also, if you are using any jade rollers, whip it out here to help circulation.
4. Occlusives: Seal off all that goodness with a good moisturizer that can act as a barrier. You want to create this layer to lock in moisture.  Moisturizing important step after masking that people often forget! Some people wash off the mask, which defeats the purpose! What you want to do is to apply an occlusive to keep from evaporating so we can lock in the moisture and nutrition you restored in the previous steps.
Lotions/Emulsions are the thinner, lighter moisturizers.  If you have oilier skin, you may prefer using a lotion as the only occlusive.
Thicker creams (usually night creams are thicker) go here and are applied after. Oilier people prefer water based creams, and drier skinned people prefer heavier, thicker, oil-based creams.
5. If you are using a separate eye cream and lip, cream, you can apply at this step.
6. If you are using any face oils, they go on last, as the last occlusive layer. I would only use oils during dry months, once a week, or if I'm reapplying on a flight.
7. Suncare: This is a daily must-do step that's part of the day time routine. Use at least an SPF30 with PA+++.  I always recommend the strongest PA++++  as that indicates stronger protection from UVA, which ages skin. The sun is out every day, even when it's cloudy and even if you are indoors with windows! There's also blu-ray from our monitors and phones!  At night, be sure you take the time to thoroughly cleanse as sunscreens clog the pores.
 8. Any make up like primers, B.B. creams, or tinted moisturizers would be in this last step as you begin to apply your make-up.
And there you have it!  While these are general guidelines for the proper skincare routine, beauty is personal and depending on your skin goals, your products will differ.  Make sure your products target anti-aging, anti-inflammation and the goals you want to target.  Build your personal routine around these products based on the guides we provided around cleansing and restoring/replenishing.  Remember that any routine is only effective when you are consistent and stick to your products for at least one skin cycle.  Masking should also be incorporated REGULARLY into a routine as opposed to using as a special occasion treat. Mask Moments will help target restoration and replenishing for anti-aging as well as treating inflammation. Skincare maintenance is a routine habit, and we keep our customers on track with our subscriptions (non subscription products are available too).
Ready to try the newest specialty face mask on the market? Mask Moments is made of absorbent, anti-inflammatory coconut jelly and is a direct-to-consumer beauty masks subscription service.